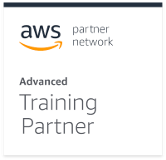 AWS Business Essentials (AWSBE)
Who should attend
This course is intended for:
IT Business Decision-Makers
Individuals who are new to working with AWS
Prerequisites
We recommend that attendees of this course have the following prerequisites:
Working knowledge of IT infrastructure concepts
Familiarity with basic finance concepts
Familiarity with basic IT security concepts
Course Objectives
AWS Business Essentials helps IT business decision makers understand the benefits of cloud computing and how a cloud strategy can help you meet your business objectives. In this course we discuss the advantages of cloud computing for your business and the fundamentals of AWS, including financial benefits. This course also introduces you to successful cloud adoption frameworks so to help you consider the AWS platform within your cloud computing strategy.
This course is designed to teach you how to:
Identify the value and benefits of the AWS cloud
Recognize the valuable ways that the AWS platform can be used
Understand the robust security capabilities, controls, and assurances in place to maintain security and data protection
Articulate the financial impact the AWS cloud can have on an organization's procurement cycle, cost management, and contracts, while minimizing risks associated with consumption-based pricing models
Course Content
Benefits of Cloud Computing and Defining Your Cloud Strategy
Introduction to the AWS Cloud
Security and Compliance
Cloud Financials
Migrating to the Cloud: Next Steps
Online Training
Duration 1 day
Classroom Training
Duration 1 day
Price
(excl. tax)
Austria:

750.— €

Germany:

750.— €

Switzerland:

CHF 975.—
incl. catering
Catering includes:
Coffee, Tea, Juice, Water, Soft drinks
Pastry and Sweets
Bread
Fresh fruits
Lunch in a nearby restaurant
* Catering information only valid for courses delivered by iTLS.
Schedule
Europe
Slovenia
Netherlands
United Kingdom
London, City
This is a FLEX course in English language.


Time zone: Greenwich Mean Time (GMT)
English
German
Time zone: Central European Summer Time (CEST)
Instructor-led Online Training: This computer icon in the schedule indicates that this date/time will be conducted as Instructor-Led Online Training.