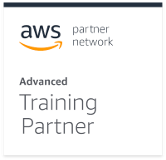 AWS Security Essentials (SEC-ESS)
Who should attend
This course is intended for:
IT business-level professionals interested in cloud security practices
Security professionals with minimal working knowledge of AWS
Certifications
This course is part of the following Certifications:
Course Objectives
This course is designed to teach you how to:
Identify security benefits and responsibilities of using the AWS Cloud.
Describe the access control and management features of AWS.
Understand the different methods to secure data.
Describe how to secure network access to your AWS resources.
Determine which AWS services can be used for monitoring and incident response.
Course Content
This course covers fundamental AWS cloud security concepts, including AWS access control, data encryption methods, and how network access to your AWS infrastructure can be secured. We will address your security responsibilities in the AWS cloud and provide a brief introduction to the different security-oriented AWS services available.
Online Training
Duration 1 day
Classroom Training
Duration 1 day
Price
(excl. tax)
Austria:

895.— €

Germany:

895.— €

Switzerland:

CHF 1,170.—
incl. catering
Catering includes:
Coffee, Tea, Juice, Water, Soft drinks
Pastry and Sweets
Bread
Fresh fruits
Lunch in a nearby restaurant
* Catering information only valid for courses delivered by iTLS.
Schedule
Europe
Germany
Poland
United Kingdom
London, City
This is a FLEX course in English language.


Time zone: British Summer Time (BST)
London, City
This is a FLEX course in English language.


Time zone: Greenwich Mean Time (GMT)
Guaranteed date: iTLS will carry out all guaranteed training regardless of the number of attendees, exempt from force majeure or other unexpected events, like e.g. accidents or illness of the trainer, which prevent the course from being conducted.
Instructor-led Online Training: This computer icon in the schedule indicates that this date/time will be conducted as Instructor-Led Online Training.