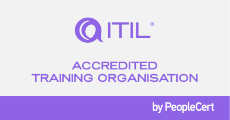 COBIT 5 Foundation (COBIT5FC)
Who should attend
A wide range of business managers, IT management consultants, IT governance professionals, and auditors who wish to gain a better understanding of COBIT 5 and what the framework can provide their organization.
Prerequisites
There are no formal prerequisites. However, it is recommended that you have experience in the IT governance domain.
Course Objectives
At the end of this course, you will gain competencies in:
Key challenges of using IT
IT governance concepts and benefits
COBIT 5 framework, principles, and enablers
Relationship between stakeholder needs and governance
Implementation approach for the use of COBIT 5
Structure of COBIT 5 process reference model
Governance and management domains
Components of COBIT 5 processes
Need for capability assessments
COBIT 5 ISO/IEC 15504 approach
Application of COBIT 4 maturity model approach with COBIT 5
Other COBIT 5 enablers for IT governance and management
Course Content
The COBIT® 5 Foundation course is an interactive, classroom-based learning experience. Participants learn about the need for an IT governance framework and how COBIT addresses this need by providing the latest insights into enterprise-wide governance of IT. This course explains the elements and supporting materials of the COBIT framework, using a logical and example-driven approach for anyone interested in obtaining COBIT foundation level knowledge. COBIT 5 Foundation is the first step, and a prerequisite, to enroll into the advanced level courses (e.g. COBIT Assessor, COBIT Implementation).
About the Examination
The COBIT 5 Foundation Exam (and preparation) are only included in the 3-day course.
The 3-day course includes an Exam Preparation module, which prepares participants to take the COBIT 5 Foundation Exam on the third day of the course.
The exam is in closed-book format with 50 multiple-choice questions. The pass score is 50%. The exam lasts for 40 minutes. The exam is available as web-based or paper-based.
Classroom Training
Duration 2 days
Price
(excl. tax)
Austria:

1,140.- €

Germany:

750.- €
Courseware language: English
Currently there are no training dates scheduled for this course. Enquire a date